Starting up a new business in Cameroon – a country with tremendous potential
Cameroon is a country rich in natural resources with great cultural diversity and motivated people, which means it is a country with tremendous potential. At the same time, however, it faces many challenges, such as the need to build effective infrastructure and ensure transparent governance. Deciding whether or not to start working as an entrepreneur in Cameroon will therefore always be difficult.
Taking their know-how back home
After living abroad for some time, many Cameroonians are drawn back to their country of origin despite – or indeed because of – the scale of the challenges involved. While they want to improve their own prospects, they are also keen to help Cameroon and to put their newly acquired skills and knowledge to good use where they are urgently needed. For this reason, many returnees consider setting up their own business in Cameroon.
Many people from Cameroon go abroad to complete their education or training. There are currently around 6,000 Cameroonians studying in Germany alone. They make up the largest group of students from sub-Saharan Africa at German universities. Romeo Nwansi is one of them. He studied and worked in Germany before setting up his own IT consulting firm in Cameroon with support from 'Business Ideas for Development'.
Countless openings for good business ideas
Business opportunities can be found in many sectors of Cameroon's economy, especially when it comes to harnessing existing potential more efficiently. Some examples include increasing productivity in the agricultural sector, expanding the use of renewable energy or improving business efficiency through the use of modern IT systems. One entrepreneur who received support from 'Business Ideas for Development' to set up his own business put it like this: 'In Cameroon there are countless openings for good business ideas. All you have to do is walk down the street with your eyes open. If we don't do it, others will.'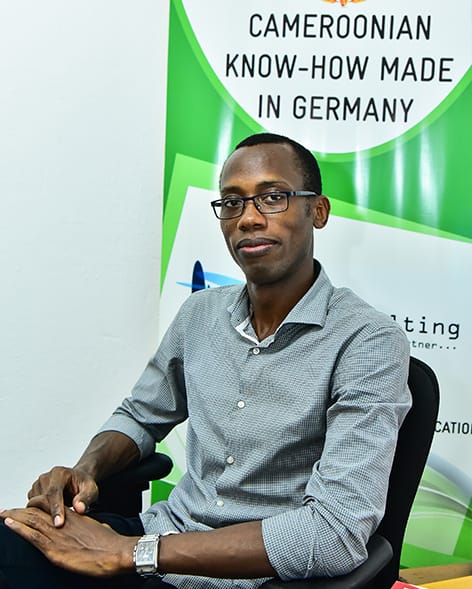 Real-life examples
Three years ago, Romeo Nwansi resigned from his permanent job as a systems engineer at one of Germany's biggest IT companies and embarked on a life of uncertainty in Cameroon.