Profile
The company: Water, Energy, and Environment
Founded: in 2016
Location: in Zarzis
Winner of two international prizes, including the prize at the International Invention Fair of the Middle East
Winner of three national prizes, including the Tunisian Innovation Prize
Five interns, three from Tunisia, two from Cameroon (as of March 2021)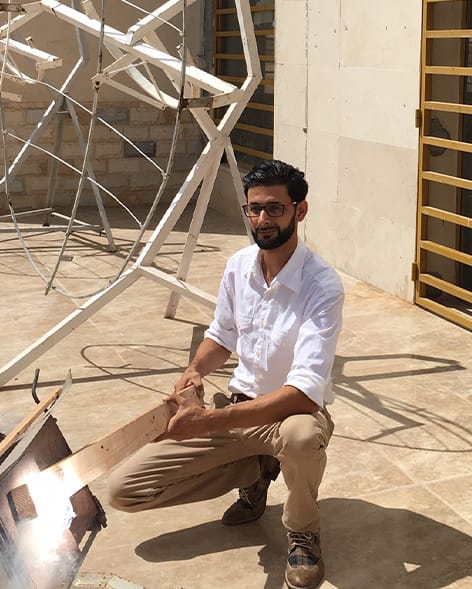 Energy for development
Poor energy supply is still a major obstacle for economic development in many countries. There is a direct link between poor energy supply and poverty. The International Energy Agency estimated in 2019 that more than ten percent of the world's population has no access to electricity. Off-grid power generation from renewable energy sources could solve this problem, especially in the rural regions of Africa that are not yet connected to the grid.
The business idea
Abdallah Khenissi says that he has a 'pathological fixation': supply Africans in rural regions that lack energy infrastructure with cheap, decentralized solar power or solar thermal energy, and turn the desert green in the next step. He is currently attempting to achieve his first goal by building and using solar concentrators. These units use solar energy to generate high temperatures, which can then be used for a wide range of industrial and private purposes and processes. After all, heat – rather than electricity – is the most commonly used form of power. It is needed in food production for cooking, baking, drying, pasteurizing and sterilizing, and also in the textile industry for washing, bleaching, and dyeing. And those are just two of many possible areas of use. As for Abdallah's second goal to vegetate the desert, he plans to desalinate seawater. Solar concentrators would play a key role in this process, too.
Abdallah is convinced that the solar concentrator manufactured by his company, Water, Energy, and Environment, will establish itself on the market in the long term. Solar thermal energy is regarded as the most environmentally friendly renewable energy source and it can be stored cheaply and in huge quantities. This is a major bonus, especially in the age of climate change.
Euphoria meets disappointment
Although Abdallah returned to southern Tunisia full of euphoria and with a grand vision in his mind, those around him were anything but euphoric. 'Many people were annoyed and even disappointed that I hadn't stayed in Germany. The fact that I deliberately didn't return with a big, fancy car didn't make things any better – quite the opposite. Money and prestige aren't important to me personally. What drives me is the desire to find solutions to current global challenges.' However, there are also people who share Abdallah's vision and welcome his engagement: Hassan Dhahmen from the 'Association l'Oasis des Sciences', for example, has already tested Abdallah's solar concentrators and has rented them for events. He says: 'These solar concentrators can save the population a great deal of work in the future, because they mean you no longer have to go to the trouble of organizing and carrying heavy gas cylinders, which have been the most important energy source up to now. The fact that the concentrators are produced in Tunisia and not abroad makes us proud and it's another good reason to use them.'
Three months of training in Germany
'Business Ideas for Development' supported Abdallah's gutsy project because the growing energy deficit and rising energy prices are putting the stability of the country and the achievements of the revolution at risk. Among other things, 'Business Ideas for Development' financed a three-month training course in Germany for the entrepreneur and one of his employees – with Wolfgang Scheffler, inventor of Scheffler solar concentrators. These units are based on a technology that is both simple and impressive, as well as relatively easy and cost-effective to produce. Abdallah's start-up is the first to produce Scheffler solar concentrators in Tunisia. His story is a telling example that creating a start-up in Tunisia can be worthwhile.
"
Back then, when I had to decide whether to stay in Germany or return to Tunisia, I asked myself: What can you do with 5,000 euros in Europe and what can you do in Tunisia with the same amount of money? And that was the decision made.
The feeling of doing the right thing
At present, a major challenge for Abdallah's business is reducing the costs of the time-consuming production of these solar concentrators. He is also battling with two other issues: the danger that his employees, who he has to train himself because there is no suitable training course in Tunisia, will pack up and leave for Europe after completing their training. This is a very real fear, because it has already happened. Moreover, the loneliness of being a pioneer and non-conformist in the remote south of the country repeatedly crops up as an issue for Abdallah. He says: 'Other trailblazers who have managed to put their visions into practice in the middle of the desert – despite all the opposition – are a real role model for me. They give me courage and keep me going.'